The 3 absolute USPs
The hotel of the future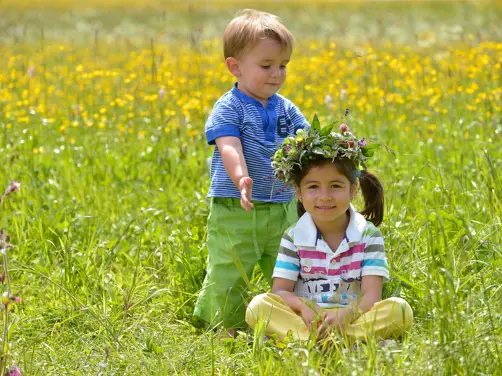 1. unique Appenzell hotel resort in traditional solid wood construction
Support the investment in our environment and experience this natural wood feel-good ambience.
When you check in here, you'll experience Switzerland like a picture book. Appenzell-chalet-feeling with lots of nature, local and regional cuisine and the power of the forest.
The two historic hotels, Huus Bären and Huus Löwen, and the five-star wellness hotel Quell, planned for early 2025, combine valuable Appenzell craftsmanship with modern zeitgeist.
Unique in Switzerland: 5000 trees and timber construction
All the hotels were built from solid wood using the Appenzell knitted timber construction method. This construction method and the two hotels can look back on more than 400 years of proven tradition. In recent years, the two hotels have been lovingly restored and in some cases rebuilt. In Huus Bären, for example, the old 16th century building has been preserved with all its charm and ambience. For those who prefer a more contemporary look, the design hotel Huus Löwen, which opened in June 2023, is a modern timber construction. The hotel has been built using lunar wood. This can only be felled on four days a year when the moon is waning during the 'sap rest' period.
A total of 5000 trees were felled in the forests of Appenzell and processed locally in Gonten for the entire Appenzeller Huus complex.
Zero energy balance – sustainable building
As a building material, wood is not only durable, it is also low in pollutants, breathable and healthy. In terms of our environment, wood is also an important CO2 sink. In total, the Appenzeller Huus stores around 2500 tonnes of CO2.
With the construction of the new five-star Hotel Quell (opening spring 2025), the Appenzeller Huus will achieve a zero energy balance thanks to state-of-the-art facades, solar roofs and 50 geothermal probes. The water will come from the hotel's own springs. An investment in our future.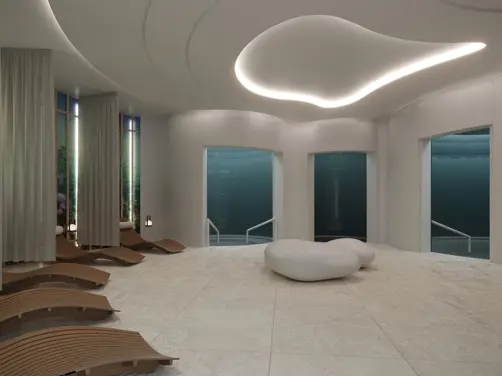 2. the first high-tech wellness centre in Europe (from spring 2025)
Cutting-edge technology, a spectacular rooftop pool and popular saunas, traditional treatments and many other spa experiences on 2200 square metres.
The Swiss hotel resort Appenzeller Huus is home to the first high-tech health spa of its kind in Europe: bio-hacking, cold therapy, an oxygen chamber and many other state-of-the-art treatments. Therapies take place in 12 treatment rooms.
The unique high-tech health and wellness centre is part of the new five-star wellness hotel Quell in Appenzell, which will open in spring 2025. In addition to the latest technologies, the pioneering wellness hotel will offer a wellness cosmos for all the senses over three floors and 2200 square metres. It offers guests a technology area as well as popular traditional wellness facilities and treatments.
A spectacular outdoor pool, saunas and a serviced rooftop lounge area
As far as the eye can see, guests can literally immerse themselves in this spa experience on the top floor of the five-star Hotel Quell. The breathtaking heated outdoor Endless Vitality Pool is located on the roof of the solid wood building. While the view stretches as far as the Alpstein, underwater jets gently massage your back as you relax on one of the pool loungers. For those who prefer to do their laps, there is a lap pool on the opposite side of the attic. There are also three sauna houses on the third floor, with a salt sauna, an aroma steam bath and a bio sauna. After a sweaty session, sauna-goers can cool off in the cold water pool. There is also a staffed lounge with comfortable seating and a relaxation area.
Wellness experience in the garden all year round
Nature is a magnet in Appenzellerland, so the owner of the Appenzeller Huus was keen to extend the wellness experience into the garden. The outdoor area is accessible from the treatment area on the ground floor of the Huus and includes a sensory pool, a hot mineral bath, a cold bath, event saunas, a steam grotto, a clubhouse and, of course, a relaxation area.
Wellness tour through four Appenzell natural worlds
In the basement, guests travel through four different landscapes that symbolise the Appenzell region.
- Lake zone (flotation pool, cold water pool, heated pool)
- Forest zone (meditation sauna, rain room, multi-sensory lounge)
- Mountain zone (relaxation area, salt steam bath, herbal sauna, relaxation and heated lounges)
- Canyon Zone (lobby and consultation areas)
Staying fit into old age
Gonten is an ideal destination for active holidays all year round: a variety of walking and cycling routes, a cross-country ski trail, a small ski area and an 18-hole golf course in Gonten itself. A 73 square metre fitness area with state-of-the-art equipment and an outdoor Mind & Body platform is being built at Huus Kronberg (also opening Q1 2025).
The wellness concept has been developed by internationally renowned Goco Hospitality. With the future wellness hotel Huus Quell, the Appenzeller Huus hotel resort will become one of the most exciting wellness destinations in the Alps.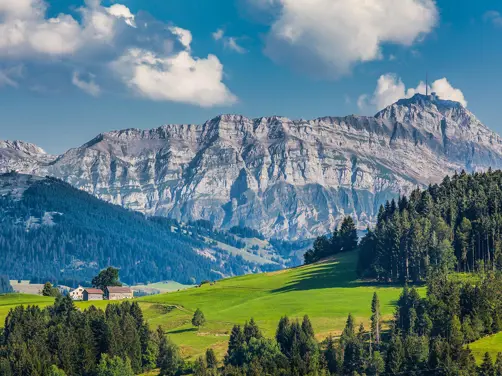 3. art, culture and lifestyle
Are you looking for an idyllic place to escape the hustle and bustle of the city and get to know one of Switzerland's most charming regions and authentic cultural landscapes? It should be chic, with high quality interiors and unique.
Appreciating arts and crafts
The Appenzeller Huus, with its two hotels Huus Bären and Huus Löwen, builds on over 400 years of history and combines this with contemporary regional craftsmanship, without any kitsch. Guests at Huus Löwen sleep in fine embroidered bed linen, just like their grandmothers did. These fabrics, designed exclusively for the Appenzell Huus, come from the renowned St. Gallen company Jakob Schlaepfer AG. Throughout the house you will find various works by the famous Appenzeller Sennensattler Roger Dörig, such as the napkin rings. He is one of the last of his trade. This attention to detail and quiet luxury can be found in every corner of the Appenzeller Huus. The fireplaces in the Huus Bären are custom-made, and the one in the tavern pays homage to old cowbells.
Culinary voyage of discovery in Appenzellerland
Executive Chef Peter Prüfer brings the region to your plate. Whether vegetarian, fish or meat, the product is the main focus. He sources his produce from local traders, farmers and hunters. If you would like to take a culinary souvenir home with you, he will be happy to tell you his favourite addresses.
Winemaker Hans Rhyner's selection of wines is already well known beyond the canton's borders. In 2025, the Appenzeller Huus will be home to Switzerland's largest wine cellar, covering an area of 300 square metres.
Appenzeller Forum – a meeting place for culture
The young association Appenzeller Forum is developing into a meeting place in Eastern Switzerland for stimulating discussion, entertainment and further education. Politicians and artists of note appear weekly at the Huus Löwen.