Sustainable place of power in Appenzellerland
The Appenzeller Huus offers a unique mix of hotels, living and enjoyment - the innovative concept places particular emphasis on sustainability, gentle tourism and traditional crafts.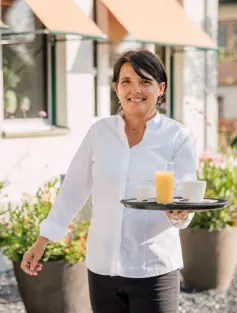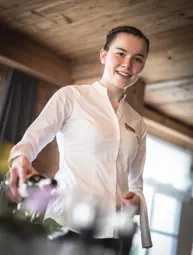 Retreat between tradition and modernity
The Appenzeller Huus is a beacon with international appeal, in the hotel, the residential, gastronomy and wellness areas. We offer all guests, whether they stay for a short time or permanently, as well as the locals, warm and committed hospitality with feel-good character.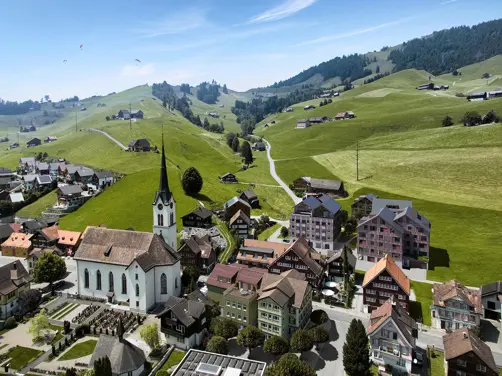 Our vision
Nestled in the lovely Appenzell countryside, the Appenzeller Huus offers relaxation for body, mind and soul as a place of strength. Thanks to local materials such as load-bearing solid wood elements, it stands for sustainable, tourist and residential cultural development across borders. We not only want to be one of the most popular local employers, but also offer a contemporary, affordable level of service.
A first class hide-away of a special kind
At the Appenzeller Huus in idyllic Gonten, you can treat your body, mind and soul. This is a good place to live, work and simply enjoy. This retreat between tradition and modernity, located at 900 metres, offers residents and guests not only high-quality, sustainable premises, but also a diverse range of leisure, wellness, gastronomy and cultural activities. The Appenzeller Huus is made up of two existing houses and five newly built houses with hotel rooms, condominiums, holiday flats and serviced flats. However, beneath the traditional dress of the Appenzeller Huus lies an ultra-modern core.
The best of living and enjoying
47 flats
22 rooms in the 3-star Hotel Huus Bären
24 rooms in the 4-star Hotel Huus Löwen
30 rooms in the 5-star wellness hotel Huus Quell
Co-Working Spaces
5-star Goco wellness offer
Infinity pool with Säntis view
unique fine dining concept from traditional to vegetarian and vegan cuisine
Switzerland's largest wine cellar (opening 2025)