Celebrations & Weddings in Appenzellerland
A special ambience for special occasions! In the midst of the most beautiful landscape, you will find exceptional event venues for unforgettable occasions with us at the Appenzeller Huus in Gonten.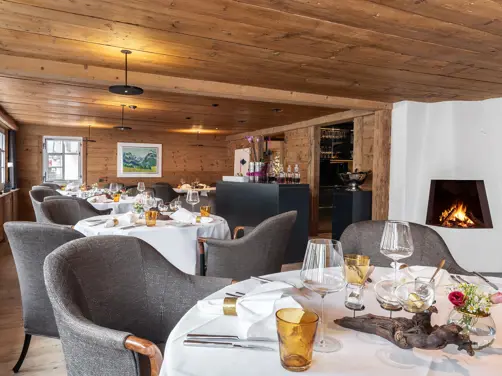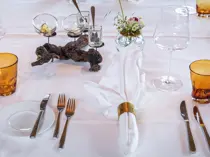 Celebrate in Huus Bären
We know how to spoil you in Appenzellerland! In the Bärenstube of the 3-star hotel you eat a la carte. It can accommodate up to 92 guests, and 30 in the tavern and Schmitte. Whatever the occasion, you can have your say in planning the menu. We will arrange regional culinary delights for you according to the four seasons. If you wish, your event can be transformed into a real traditional Stobete with live Appenzell music, which we can organise for you. To make it really heemelig, we will be happy to serve you in traditional Appenzell costume.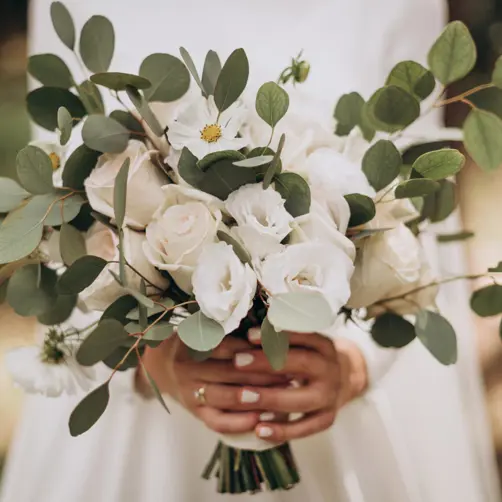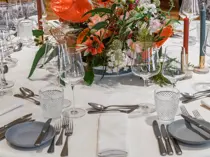 Wedding at Huus Löwen
Spend your most beautiful day in Appenzell. Celebrate very special moments in the Löwensaal of the 4-star Hotel Huus Löwen. Something quite extraordinary has been created here. The room, made of traditional moon wood from the Schwägalp, impresses with large windows, glass chandeliers and a warm, cosy ambience. Depending on the occasion, the hall offers space for up to 60 people and is equipped with the latest technology.
Find out more in our wedding brochure.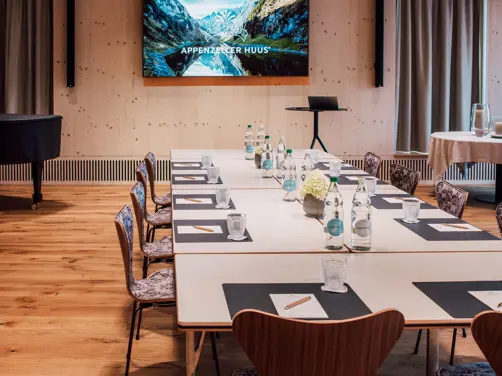 Löwensaal
Huus Löwen
99 m2 Opened in 2023, the light-flooded Löwensaal is made of moon wood and equipped with the latest technology. Glass chandeliers and numerous details create a modern yet cosy ambience. The romantic garden behind Huus Löwen can be used for breaks and aperitifs.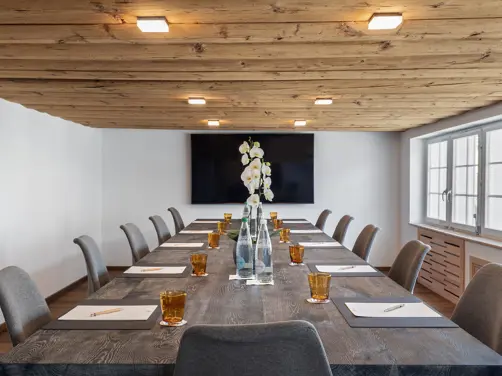 Boardrooms Gonten & Appenzell
Huus Bären
23 m2 / 29 m2 Flooded with light, traditional and yet perfectly equipped for inspiring meetings and workshops are our two boardrooms in the Huus Bären. The two rooms Gonten and Appenzell can be connected or used individually. For short moments of relaxation, a view from the window front onto the mountain range in the distance or the green hills of Gonten.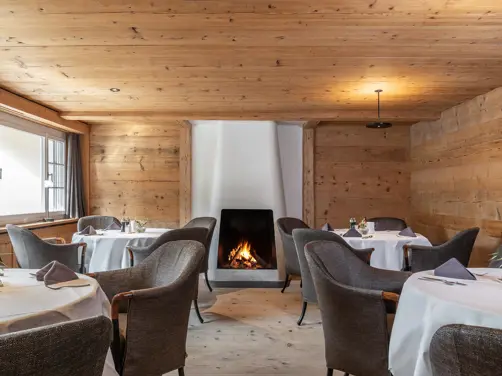 Lehnerstube
Huus Bären
25 m2 The authentic meeting room in Huus Bären, equipped with original Appenzell knitted wood, breathes tradition and cosiness. Natural daylight and a cosy fireplace create the perfect Appenzell ambience. The Lehnerstube is particularly suitable for small seminars and workshops for up to 12 people.